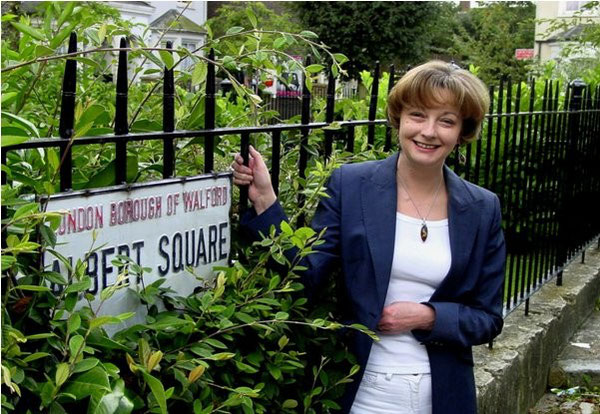 I have some very happy memories of EastEnders. I love the show, adore the people, and made some lasting friendships there. We had some terrific successes in my time, and I'm especially proud of re-launching Shane Richie as Alfie Moon, of introducing Nigel Harmon as Dennis Rickman, and of starting Lacey Turner as a new young Slater. I loved our Christmas episodes too - we did one of the saddest (Jamie's death in 2002) and also the first (and so far only) happy ending in 2003 with the wedding of Kat and Alfie. We won a lot of awards, and enjoyed a higher share of the audience than the programme usually gets now.
We also had a lot of fun...
But it's hard to deny that a lot went wrong.
My Jonah streak was working overtime through those years. We were hit by a succession of major cast illnesses, accidents, unexpected pregnancies and miscarriages, drinking and internet sex scandals, and one actor even being withdrawn in the middle of a day's shoot because of problems with his work permit. Stories had to stop abruptly in the middle because the lead actor was unavailable, character journeys weren't followed through properly for the same reasons, script quality suffered because all the writers were doing furious rewrites of episodes hit by missing actors. There were times we were hanging on by our fingernails to get the show made at all.
I don't blame the media for criticizing the show during this time - there were weaknesses showing on screen, and it's the media's job to report them. I don't blame viewers for being upset either. A show like EastEnders does not belong to its producers - it's a national treasure and belongs to the viewers. They'd every right to be upset when a story short-changed them, and no-one could expect them to understand the practicalities of how such a thing could happen. Yes, it's hurtful to be on the receiving end of heavy criticism, but I was inclined to blame myself too. Even if what happened wasn't strictly 'my fault', it was still my responsibility to somehow make things work regardless, and in the end I don't think I was good enough. Whether I was or not isn't the media's problem anyway - I was the show's figurehead, and that's just the way it works.
I don't want to dwell on all that. I'd rather remember the heroes of that time, of which there were a great many. Here's just one, and that's the late, great Wendy Richard. The most serious cast-illness of all was her cancer - and Wendy went on working right through her treatment to ensure the show didn't suffer. She knew the importance of continuity to a soap, she knew what a betrayal it would be of the viewers if a long-established character were improbably missing at an important family event, and she worked all through. God bless Wendy. She knew the meaning of the word 'trouper', and I'm incredibly proud to have known her.
But it was an exhausting time, and I was highly relieved when my resignation was finally accepted in October 2004. I'd had more than enough of politics and management, and although I was offered another job at the BBC I opted for a period of rest and recuperation instead.
It's the best decision I ever made. For the first time in years I was without an outlet for the need to tell stories. There were no writers to brief or bounce ideas off, no actors to embody them, there was only me and a computer.

Which is when I started to write for myself.