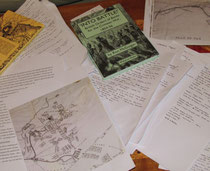 NONE. There are ABSOLUTELY NO UPCOMING EVENTS until I get this next book finished. My future now is just writing, writing, writing until it's done.
Of course it helps that I'm so enjoying it...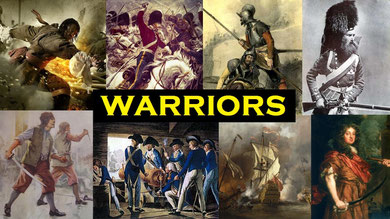 November 2013 saw me pairing up with awesome historian and author J.D. Davies for a talk on the subject of 'Warriors'. We did it first at Shefford Library, then a fortnight later at the wonderfully ancient Bell Inn at Finedon, and in each case we had the most wonderfully appreciative and stimulating audience. It actually went so well, we're wondering about maybe doing it again next year...
This was the blurb for the event:
'The warrior has been with us since the dawn of time. Centuries have evolved the spear to the pike, the sword to the bayonet, the handgonne to the howitzer, but the figure at the centre never changes – the man whose calling is to fight with other men.
But who is he – Wordsworth's 'Happy Warrior'? What kind of men are drawn to such a life – and are they really all the same? What's the difference between a soldier and a warrior – and could a woman ever be either? In conversation that ranges from the swashbuckling swordsmen and valiant sailors of the 17th century to the thin red lines of the Victorian army, award-winning historian and author J.D. Davies and bestselling novelist A.L. Berridge discuss the enduring fascination of the fighting man in history.'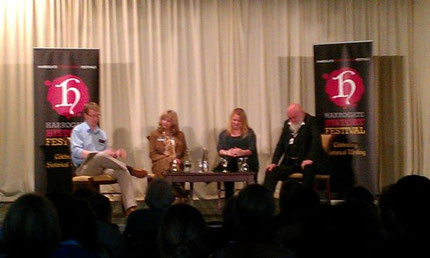 26th October - I was at the first ever Harrogate History Festival.
The whole thing was fantastic, but my own panel was with Robyn Young and Rob Low, discussing 'Conflict in Fiction' under the stern eyes of moderator John Henry Clay, and we enjoyed it so much we could have gone on all night.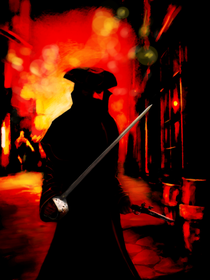 Thursday September 26th was my favourite Historical Event of the year - Goldsboro Books' 'History in the Court' in Cecil Court, off St Martin's Lane, London.
It's an evening bash, 6.30-9.30 pm, in which historical writers and readers all mingle together to chat and drink wine. The idea, of course, is that readers will also buy books for their favourite writers to sign, but I didn't have a new title out this year so I just lurked and enjoyed myself and saw a lot of old friends.
And some new ones! Hello to David and Gina from Bristol, and to Emma from Cambridge!! I was also thrilled to meet new writer Paul Fraser Collard, whose 'The Scarlet Thief' is a really irritatingly good take on the Crimean War, and a long-time hero of mine, the inimitable Conn Iggulden.
If you'd been there, you'd have met them too. Maybe next year...?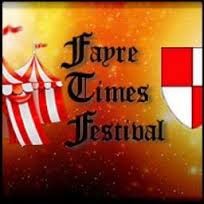 21st - 22nd September 2013 - I was part of the inaugural Fayre Times Festival at 'Barleylands' near Billericay. This looked to be a very exciting new event, aimed specifically at those who enjoy reenactment, living history, wargaming, cosplay, European martial arts, and even paint-balling.
 The turn-out was a lot lower than expected (poor weather, clash with other events) but it was still enormous fun and I do hope they'll do it again next year. Some of our best historical novelists were there - including Ben Kane, Rob Low, Tony Riches, Manda Scott, Robyn Young, Mike Jecks, Simon Scarrow, Tim Griggs and many more from the HWA.
 My own 'turn' was a double act with Tim Griggs, debating the different merits of various heroic actions of the Victorian age. This was highly enjoyable for us (whatever the audience thought!) and I was particularly smug when the audience finally gave the vote for 'Most Heroic Action' to the Charge of the Light Brigade!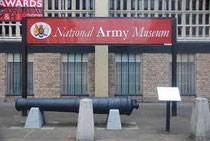 June 2013 - The National Army Museum Conference on 'Charting the Crimean War' was a huge success, and I learned a great deal from some very eminent speakers. It was arranged in partnership with the University of Leicester, and Rachel Anchor has done a great blog post all about it here.
It was also great to meet some of my readers there too. Thank you so much for coming along, and I do hope you'll keep in touch!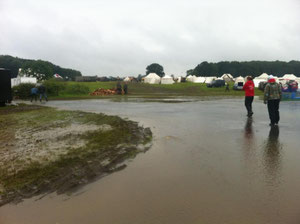 July 2012 - And a disaster, as torrential rain caused the cancellation of the entire Kelmarsh Festival of History! Rain alone would not have stopped it, but the river actually burst its banks, flooding the grounds and collapsing the tents in the main arena.
I'm sad for all the visitors who missed out on a great and much looked-forward to weekend, for the organizers who worked so hard on this all year and then had to deal with all the refunds afterwards, and also on my own account, because I was so looking forward to doing the panel on 'Forgotten Heroes' with Michael Jecks and Stewart Binns. But the real tragedy was for the re-enactors, who had spent so much time (and money) preparing for this huge annual event - only to find their campsite flooded out and that all their travails had been for nothing.
I'm so sorry for everyone's disappointment. Let's hope next year's is bigger and better than ever to make up for it!
April 30th - Personal appearance at Reading School in Berkshire.
Here I worked with a frighteningly talented bunch of Year 12 students, whom I'm hoping to lure into writing for themselves, and also had the chance to bore an entire hall full of Year 10 students on the subjects of writing and being a historical detective.
It was a wonderfully stimulating event, and I'm really grateful to Head of English Robert Baldock for making it all happen. I think he only asked me because in another life about a million years ago I used to be his English teacher....
April 26th - Article on 'Re-enactment and Historical Fiction' in Skirmish Magazine, issue 95.
April 22nd - My article about researching the Crimea is featured in the April edition of The War Correspondent, Journal of the Crimean War Research Society.
Friday 18th November 2011 - I was on a panel with Harry Sidebottom and Karen Maitland, discussing 'Love, Sex and Betrayal' at the Chorleywood Literature Festival.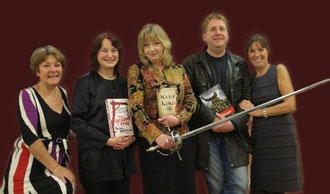 A fabulous evening, with a really stimulating audience.
Huge thanks to Sheryl Shurville and Morag Watkins of the Chorleywood Bookshop for organizing the event.
And I'm not really waving that sword to keep the others out of my limelight. Not really.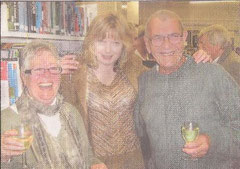 Saturday 22nd October - I did a solo Q and A session at Abergavenny Library, which was a wonderful experience. This is the most beautiful town, full of history, and it's terrific to see a council actually giving support to its libraries too.
There's a little write-up here, and another in the Abergavenny Chronicle of November 10th, friom which I've scanned this picture of the socializing afterwards. I'm afraid the dopey bird in the middle is me.
I also did a TV interview while I was there, for Sky TV's 'The Moore Show'. You can see it here.
Thursday 29th September - I was at 'History in the Court', the first of what will be an annual event at Goldsboro Books in Cecil Court, London. This was an informal gathering for readers to meet with lots of historical authors over drinks and nibbles, and was enormous fun. Look out for this again next year!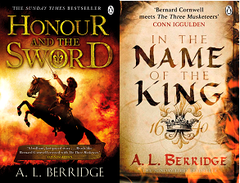 In the Name of the King came out August 4th!!
It's available in paperback and also as an e-book!

Honour and the Sword has done amazingly well. It went straight into the Sunday Times Bestselling list for Hardback Fiction, and by May was in the Top Ten! A huge THANK YOU to everyone for spreading the word – and (of course) for buying it.
Honour and the Sword came out in paperback 20th January 2011.
Honour and the Sword is now available as an e-book and can be ordered for the Kindle here.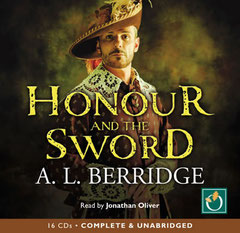 Audiobook
Honour and the Sword is now available as an audio book from Oakhill Publishing – in both cassette and CD format.