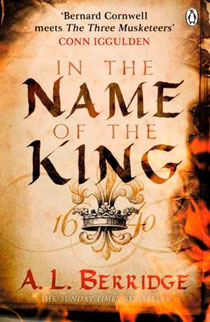 1640, and the pall of war hangs over France . . .
Across the ravaged countryside, French soldiers are gathering in vast camps, as they prepare to take on the might of the Spanish Army.
Entering Paris is André de Roland, a young and idealistic French aristocrat. He has scarcely set foot in the city when he is compelled to defend a young woman's honour by crossing swords with a cruel nobleman. Accused of treason and forced into hiding, he finds he has stumbled on a conspiracy within the King's household to seize power by a secret alliance with Spain. It is the hour of his country's greatest need and Andre is alone. He must risk his life and honour in the battle to save France.
In the Name of the King is an epic pageturner of political intrigue at court and brutal warfare in the field. It is also a story of nobility and love, as the destiny of one young man, his King and his country become inextricably intertwined.
You can read extracts from the book here.
You can buy the book here.
You can read much more about In the Name of the King on the Chevalier Series website HERE.