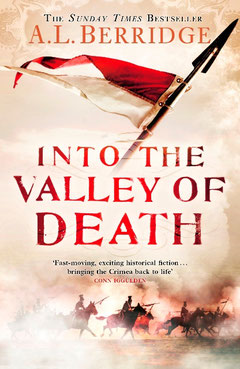 1854 - The Allied armies prepare to besiege the Russian stronghold in the Crimea
Harry Ryder is a maverick hero. Resentful of the army that destroyed his father and his own career, he has no time for incompetent commanders. He clashes with his superiors as fiercely as he fights the Russians.
Four men, one woman and a game of cards will change everything - and alter the course of a war.
Something evil has crept into the ranks of the British Army's own officers, an unknown enemy who plans to lure men to ruin on the battlefields. The only path to victory lies in uncovering the truth, but to find it and confront his own destiny Ryder must charge with the Light Brigade into the Valley of Death itself...
 "This is fast moving, exciting historical fiction. Berridge switches effortlessly between the major actions and the individual characters, bringing the Crimea back to life, with all its savage disasters and soaring triumphs. It's pitch-perfect, breakneck writing. I hope it's not just the start of a trilogy. I want it to be the first of a dozen or more." - CONN IGGULDEN
YOU CAN PRE-ORDER THE BOOK HERE!